Wow it is really fun and the art is really nice. I can tell you that it is definitely challenging for me on the second level with all the coins. Very addicting and fun, I love it.
- LetitGo

Amazing Vintage Design and Smooth Game Play.
- GiveMeApps


How good is your observational IQ?

Can you accurately spot the differences between two almost identical pics?
Can you do it in a limited time frame?

Fantastic illustrations, vivid colors, amazing effects and sounds, makes this app just as tantalizing as it is challenging.

500+ levels, and more!

This fantastic mobile game is worth all the effort with a bunch of fun and challenges thrown in for good measure.

"Spot The Difference Game" is an incredible puzzle game to test your observation IQ. Take two images, and discover the differences between the two photos. That's the objective. Nevertheless, there are plenty of routes to get to that objective as you win each level. Improve your discretionary skills and give your brain a good workout while playing this exclusive game. Snoop your way through vast amounts of high quality photos, including celebrities, pop-culture, and more!

"Spot the Difference Game" mobile game app is amongst the most successful games to pass the hurdle from magazines and computer screens into an app game on the glossy-screens of iPhones and iPads.

HOW TO PLAY:

The app reveals two photos. The photos may appear to be exactly alike but upon further inspection there are hidden differences. You can tap or click on the part of the photos that differ from each other; however, if you tap on the wrong part of the image, your time gets adjusted. The faster you finish a level, the higher your score. Remember, there are 500+ levels to get through. So depending on your personality type, you'll race to get to the top, or you'll make this app into your hobby. You want to get to the SUPER challenges waiting down the way.

CHALLENGE, BUT IT'S ADDICTIVE:

It's best to take a break from time to time while playing through the many marvelously illustrated levels. Remember, each challenge is, well, more challenging. You have to be prepared both physically and mentally. If you are mentally tired, you will miss the various differences between the images, and find it harder to get past the levels.

You see, the nature of the game keeps you excited and eager to make to the next level, which means it's highly-addictive. It's up to you if you want to go the marathon route or dip in-and-out for short periods.

Either way, you'll look forward to your next challenge because the "Spot the Difference Game" is beautifully illustrated, a very smooth running app that's easy to work with, offers intriguing images and challenging levels.. It's an ideal game for curious minds and individuals with plenty of stamina. There are 500+ levels to get through to keep you busy for quite a while. So get busy and have fun! with this hidden objects puzzle pic Game.

Find us on Facebook at:
https://www.facebook.com/spotthedifferencegame

www.spotthedifferencegame.com

What's New in Version 1.2
UI Improvements and bug fixes.​iPhone Screens:
iPad​ Screens:
​
​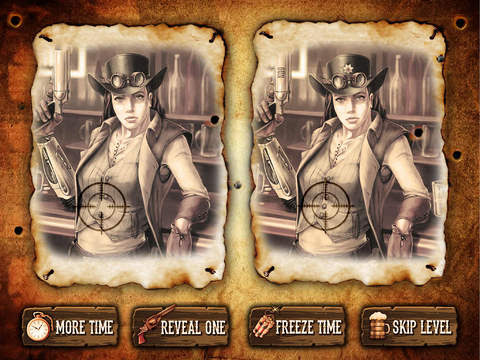 ​
​
This app is designed for both iPhone and iPad
Category:

Games

Updated:

Aug 08, 2014

Version:

1.2
​Download this GAME from iTunes:
​